I don't know about you, but I have always wanted a piglet! Most kids want a dog or a cat, some even want a hamster; I don't know why they are smelly and resemble rats. I have a reason for loving pigs and it really started a long time ago, and it wasn't from Winnie the Pooh. It actually started when I was five and I went with my parents and three older sisters to visit my aunt Shirley on her pig farm. My aunt's pig farm consisted of 1000 pigs and I thought it was the most amazing place ever! There is just something about holding a piglet that is just so exciting! 
My new found obsession is trying to find a teacup piglet; which, is the size of a teacup and they don't really get much bigger they stay between 15-30 pounds and I think they are amazing. They are like dogs and very loyal but also like cats since they are trained to use a litter box. 
Recently my other aunt and I have been searching all over the place to find two little piglets, one for her that she will name Petunia and one for me that I will name Wilton. So if you happen to find one, send it my way!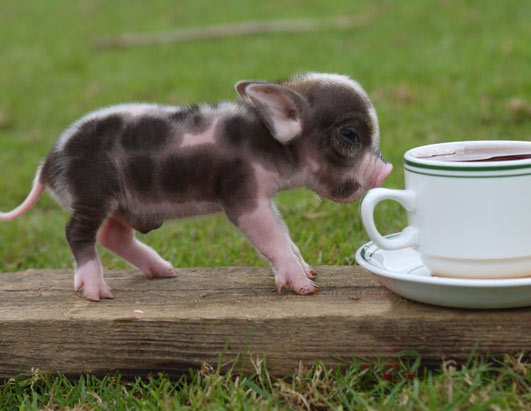 Now that you have seen a teacup piglet don't you want one!?